Beverage
Doran & Ward is dedicated to creating top-tier beverage packaging solutions for a variety of applications including cardboard beverage containers, drink caddies, and labels. Our team designs and manufactures custom beverage solutions specifically designed to capture your brand while strengthening marketability.
Our manufacturing facility operates with over 60 years of experience, meaning each and every run is precision-engineered by passionate professionals and industry experts. While Safe Quality Food restrictions don't apply to beverage carriers, we maintain an SQF certification to ensure your drink packaging containers meet and exceed your every expectation.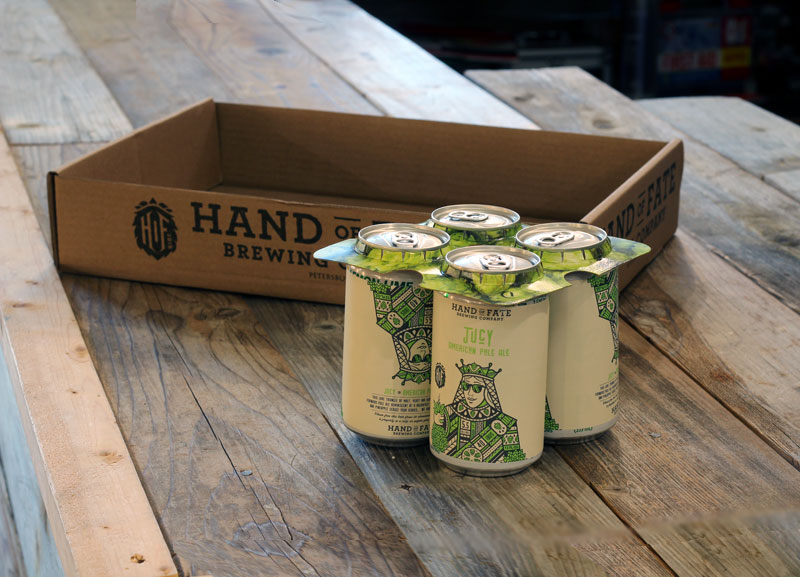 Beverage Packaging Options
For a polished finish on your product packaging, Doran & Ward Packaging's Pressure-Sensitive Labels are a great option. We can tailor the look of your labels to your brand with a custom manufactured die or choose from our large inventory of stock dies.  Need sheeted labels? No problem! The answer is "Yes!".
Made from post-consumer waste paper fibers, our strong and durable ECOclip beverage carrier is perfect to communicate your brand identity.  It's fully recyclable construction allows you to customize your marketing message while reducing your company's carbon footprint.
We can help design and create Flexible Packaging solutions with the functionality and durability you need while ensuring the right message and optimal marketability for your brand.
A beverage packaging company that cares
To us, customer service is everything. We pride ourselves in diligent care and service, and we value our partnerships to the highest possible degree. From prepress to finishing, our team provides open, compassionate guidance at every step of the process.
Order custom beverage carriers
Ready to take the next step? Choose one of the options below, or reach out to us directly, and a member of our team will get back to you as soon as possible.
Request a quote to receive a personalized estimate from our team.
Request samples of our work from nationally-recognized brands.
An Example of Class and Dignity
"You always were an example of class and dignity and you treated your customers the way you would want to be treated. Very rare traits indeed these days. Those values were no doubt also instilled in your employees that I have had the pleasure to know and work with all these years."
Honest, Kind and Professional
"Let me say to you that you are one of the most honest, kind and professional people that I have dealt with over my working career. There was never a job too small or too large that you and your staff at Doran & Ward Packaging could not complete, it was just done! Even when the Mississippi banks flooded many years ago, the wraps and soap cartons arrived on time."
Always Receptive to Meet Our Needs
"Doran & Ward Packaging has been a supplier of ours for several years and I have had the pleasure of working with them over the past eight years. I can say from all aspects in customer service, DWP has always done what they can to meet any of our expectations. From requests for urgent quotes, shorter lead times on orders, spikes in our demand, DWP is always receptive to meet our needs. It is that emphasis on the customer that keeps us buying from Doran & Ward Packaging. Sheri is our key account manager and I can honestly say she is one of the most attentive, responsive sales person I have worked with."
I Appreciate You
"I want to thank you for all that you do for us… I appreciate you both. I know I can sometimes be difficult. Especially when I have production breathing down my neck for product… thank you for hanging in there and doing what you could to help!!"
Patience and Expertise
"You and your team are the best and I value their patience and expertise more than you know."
I enjoyed working with DWP
"I enjoyed working with DWP and all of your people. You have a knack of hiring people who seemed to instinctively know what the customer wanted."
Really Impressed Me
"When we had a wrapper issue and we had two production lines down, you not only rushed replacement wrappers through your facility, but rented a plane and flew to our location with them in a rain storm. Not something just any supplier would do and that really impressed me and has stuck with me through all these years."
'Saved Our Bacon'
"I cannot count how many times you, Sheri and Jenni, 'saved our bacon' during one of one of our notorious 'crises'... and there were many!"